The Clean Energy Council has announced that Zhejiang BLD solar panels have been removed from its Approved Products List.
"The de-listing was required as the CEC has been advised that the company has ceased trading," states the CEC. "According to the CEC terms and conditions, the manufacturer should be available for warranty claims."
At the time of publishing, the BLD Solar website was still live and there was no mention on it of the company having ceased trading.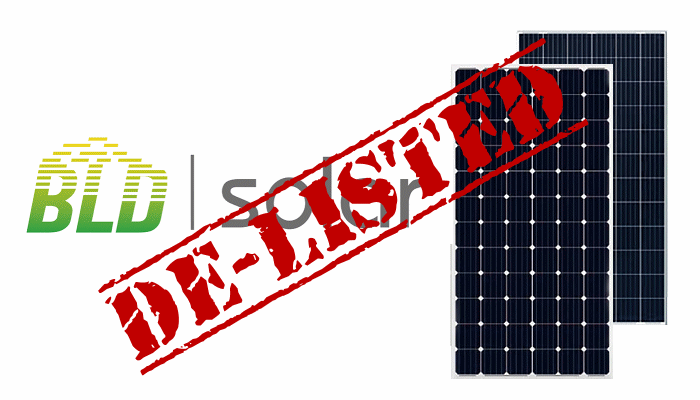 Even if the company does have a change of heart and recommences operations, it would have a task ahead of it in getting its panels re-listed. The CEC says major non-conformances in its testing program that weren't addressed by the manufacturer means a range of corrective actions would be required before this could occur.
For installers and customers with BLD solar panels who are chasing warranty claims, the CEC advises local company Alliance Solar was listed as the importer of Zhejiang BLD panels. At the time of publishing, BLD was still noted as one of the CEC-approved module brands it deals with.
Note: BLD modules shouldn't be confused with BYD solar panels, – it's a different company and many BYD panels are included on the Approved Products List.
Solar panels must be included on the list at the time of installation in order to be eligible for Australia's major solar subsidy, as must inverters. For potential solar buyers, it's a good idea to check the list against any quotes they receive and then again just prior to installation.
Other de-listings by the CEC in the past couple of months include TN Solar panels, Samil Power inverters and OneSolar inverters.
Panel Parallel Import Warning
In other news from the CEC, the Council has warned  solar companies of a panel oversupply situation in China that may lead to more modules, including well-known brands, being introduced into the Australian market via parallel imports. This is where products are purchased from a party who doesn't have permission from the manufacturer to sell its products here.
"..if it is sold to you as a parallel import, the local manufacturer is not required to help you if the product develops a fault. The manufacturer's warranty may not apply to products sold as parallel imports," states the CEC.
The CEC advises installers to check with the manufacturer to ensure a seller is authorised.
The Council requires solar panel manufacturers to nominate authorised module importers who are responsible for meeting manufacturer warranty obligations in Australia.