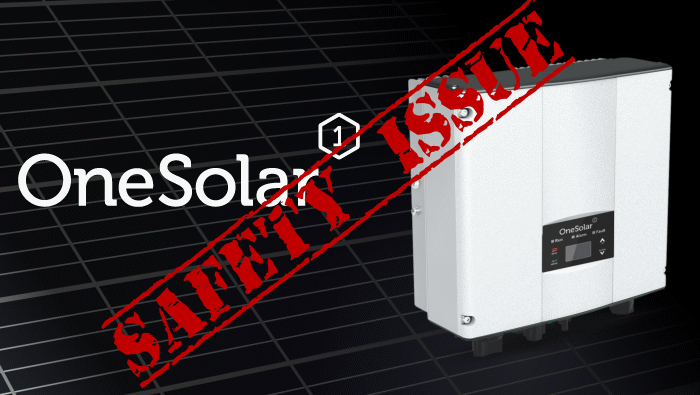 A solar inverter of One Solar International Pty Ltd,  Power Qube model PQ3000, has failed testing for compliance with AS4777-2  and presents potential safety issues says the Clean Energy Council.
In a bulletin released late yesterday afternoon, the CEC said the inverter failed the passive anti-islanding test, the harmonic distortion test and stated there were "other issues", without going into further detail on those.
The CEC says the inverter may not shut down under some grid fault conditions and may potentially damage other equipment.
As it isn't practical for the CEC to test all OneSolar inverters, it sees the result of its PQ3000 testing as indicative of the company's other models until proven otherwise. All inverters from the company will be de-listed from the Approved Products List from 21 June 2018.
However, the CEC notes:
".. inverters listed under the name "The Trustee for One Solar Unit Trust trading as One Solar International" are not affected by this de-listing as they are manufactured by a different supplier."
The Clean Energy Council Approved Products List currently shows ten One Solar International Pty Ltd models that will de-listed, with all model numbers prefaced with "PQ".
While the de-listing won't occur until later this month, the Clean Energy Council advises installers with stock of One Solar International Pty Ltd's inverters to not install the units. In cases where the inverters have been installed,  the supplier should be contacted and installers should await advice from the manufacturer or electrical safety authorities regarding the appropriate action to take. At the time of publishing, no advice has been forthcoming from either.
One Solar International Pty Ltd, which also supplies solar panels under the OneSolar brand name, came to the attention of SolarQuotes blogger Ronald last year – and he was not impressed with what he discovered.
Last night's bulletin from the CEC follows an announcement from the body earlier this week stating recent re-testing it performed on an inverter from another brand,  JingFuYuan Tech Co Ltd (JFY), resulted in another failure. All JFY inverters were originally de-listed from the Approved Products List on March 2, 2018.
Solar panels and inverters must be listed on the CEC's Approved Products List at the time of installation in order to qualify for Australia's major solar subsidy.
A solar inverter is a critical component of a PV system, and not something that should be skimped on in order to save money. As with solar panels, it's best to stick with a trusted brand.